We're so excited to announce that the Magical Mermaid Oracle has arrived! Learn more about this deck and order your copy here:
Tap into your sacred feminine wisdom & power with the magical mermaids!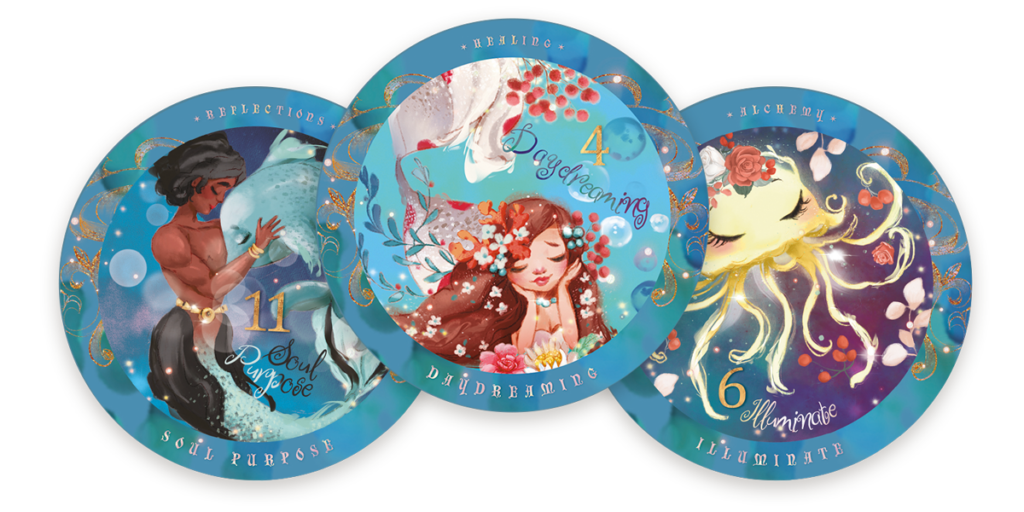 Connect with the mermaids to bring more magic & abundance into your life! Mermaids are magical water beings who represent the energy and wisdom of the sacred feminine. They can help you connect with your deeper truth, find the hidden treasures within your subconscious mind, and access your gifts of intuition and foresight. They are also mistresses of healing and manifestation. As elemental beings, the mermaids have a playful, lighthearted side, too, so they can help you rediscover the magic of your inner child and bring your dreams to life with more ease, grace, and joy.
Each card in the Magical Mermaid Oracle features a gorgeous illustration of a mermaid or other elemental sea being along with an inspiring message and sound frequency. Channeled by internationally celebrated Divine Whisperer Coco, this charming deck of 44 oracle cards is divided into four suits: Healing, AbunDance, Reflections, and Alchemy. Included is a beautiful soundtrack of harmonies you can listen to online.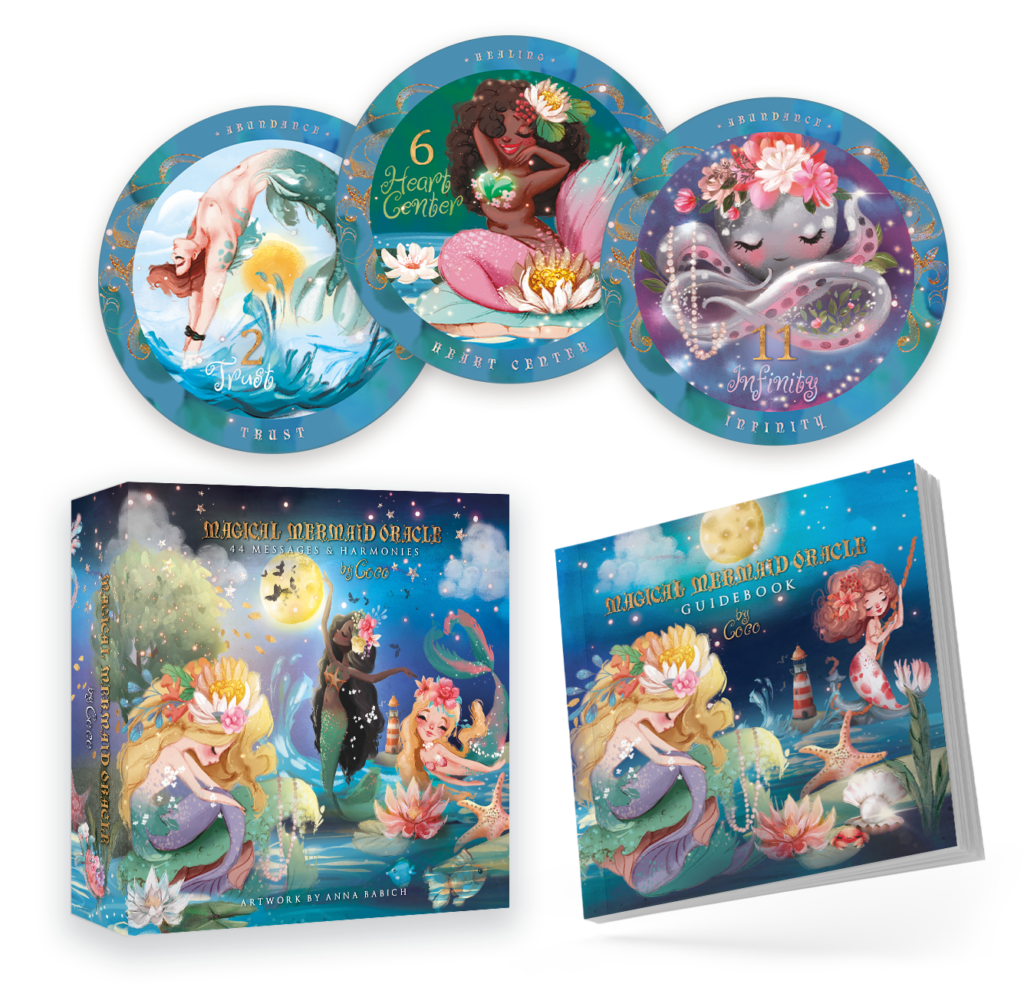 The Magical Mermaid Oracle Includes

44 round oracle cards, 90 x 90 mm, with a luxurious, soft-touch matte finish, featuring gorgeous, whimsical illustrations by Anna Babich.
72-page guidebook with instructions and extended card meanings, channeled by internationally celebrated intuitive CoCo.
A sturdy magnetic book-style box with side opening to protect your cards and book.
A blue satin ribbon to help open the box and remove the cards from the tray.
Pick a Card
What message do the magical mermaids have for you today? Pick a card to find out!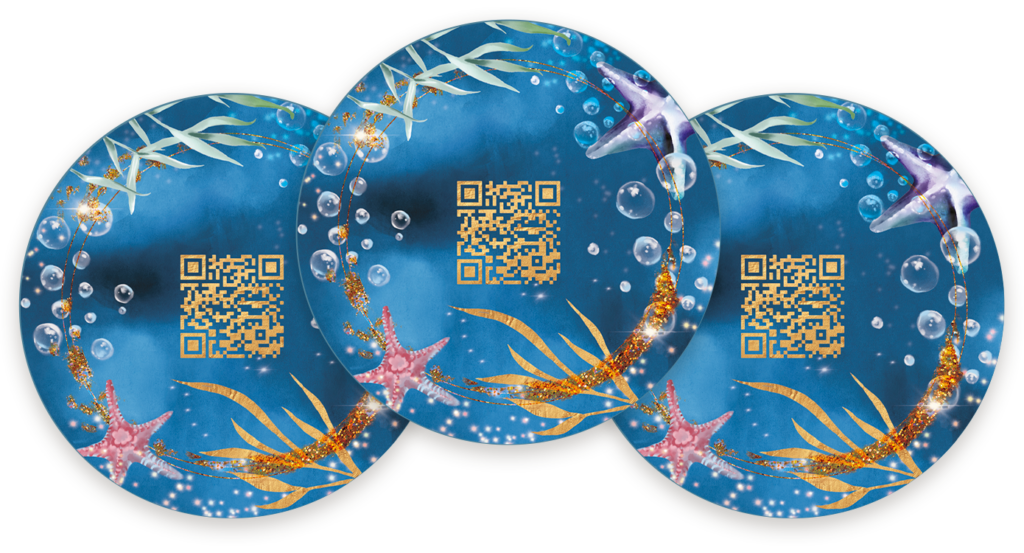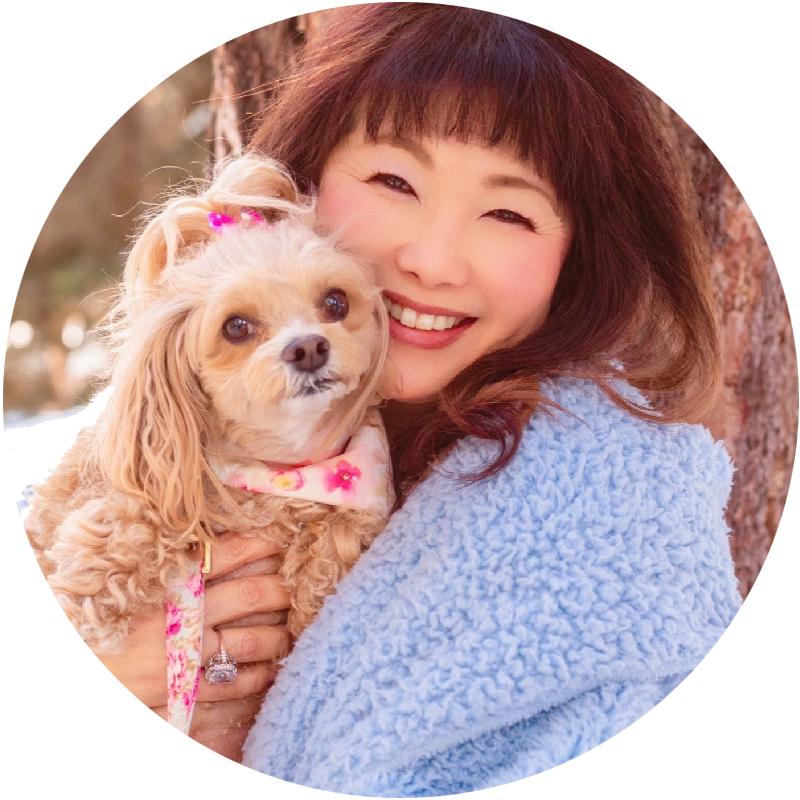 About the Author
Coco is an internationally celebrated Divine Whisperer and much-loved intuitive, clairvoyant, spiritual guide, medium, author, speaker, and shift maker. She is the founder & Chief Enchantress Oracle (CEO) of Pixie Moon Group, Goddess Academy, HARU Soulful Pet Products, and Web3 project Kisaki. Coco guides women around the world to awaken their divine feminine essence and highest potential, and live happier, more love-filled lives without compromising their deepest desires. She lives in the magical forest by a lake with her rescued kitties and her service dog.
To learn more about Coco and her work, please visit: www.Coco.Love